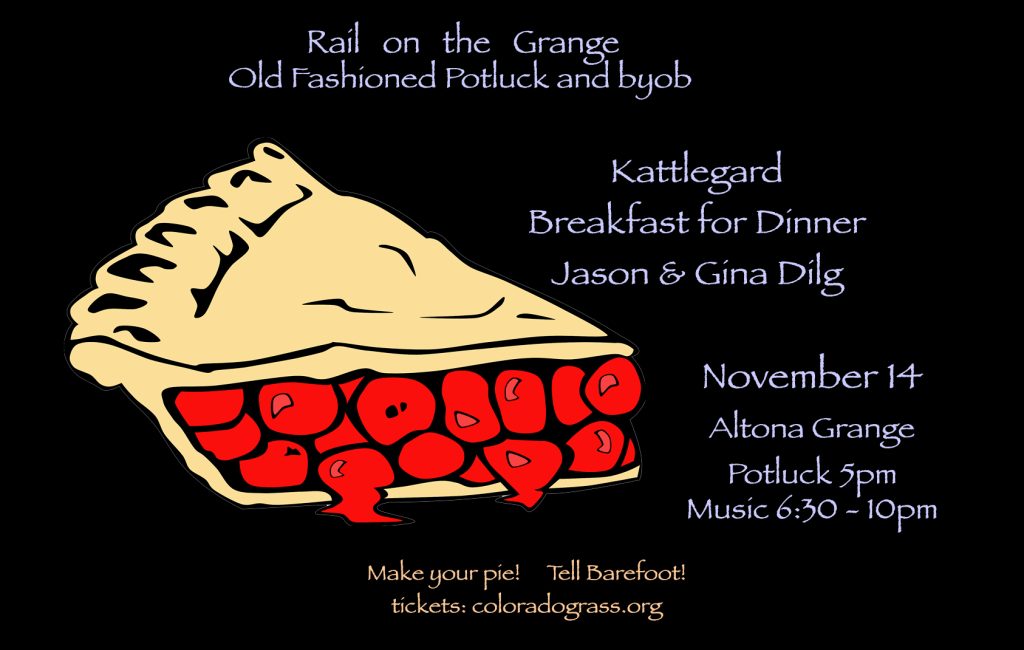 Join us for the Inaugural Rail on the Grange!
Get you tickets at the door!
Bring your axe!
3p Pre-hang/Pick/Cocktails
5p Potluck
6:30 Music (ends 10 sharp)
10p -11pm Cleanup Party
You know what we do! Potluck, BYOB, and LIVE MUSIC!
That's what we're going to do at the grange. Curfew on music is 10pm so we're starting early!
We can plug it in and get a little loud!  Lots of room to DANCE! Get your Fall party on old school with a Rail show!
all proceeds to The Band & Grange
Kattlegard:
(ALL NEW AND HOT!)
James Armington – Banjo / Vocals
Robert Clark – Bass / Vocals
Max Kabat – Guitar / Vocals
Gina Dilg – Fiddle / Vocals
Tyler Rennix – Mandolin / Vocals
Breakfast for Dinner:
Jared Janzen – Guiitar / Vocals
Tyler Rennix – Mandolin / Fiddle / Vocals
Gina and Jason Dilg:
Double Fiddle, Double Vocals
Map