Our first Third-Wednesday "Supper Songs" at Shelleys!

A Community Potluck and Social then…
Internal Frontier!
John McKay on Guitar
with Andy Skellenger on tabla and Kalin Capra on bass

Help Shelley know how many to expect by rsvping on meetup:
https://www.meetup.com/Longmont-Musical-Supper-Club/events/qdgvjryzpbbc/

It's a weeknight, and some might not have time to make a dish.
We would rather you came anyway!
Bring something else like beverages to share.
or some local whiskey.
or upside-down cake.

Of course if you can bring a dish, we really appreciate it!
The house will provide a main course.

*If you have special dietary needs, it is best to make sure you have yourself covered.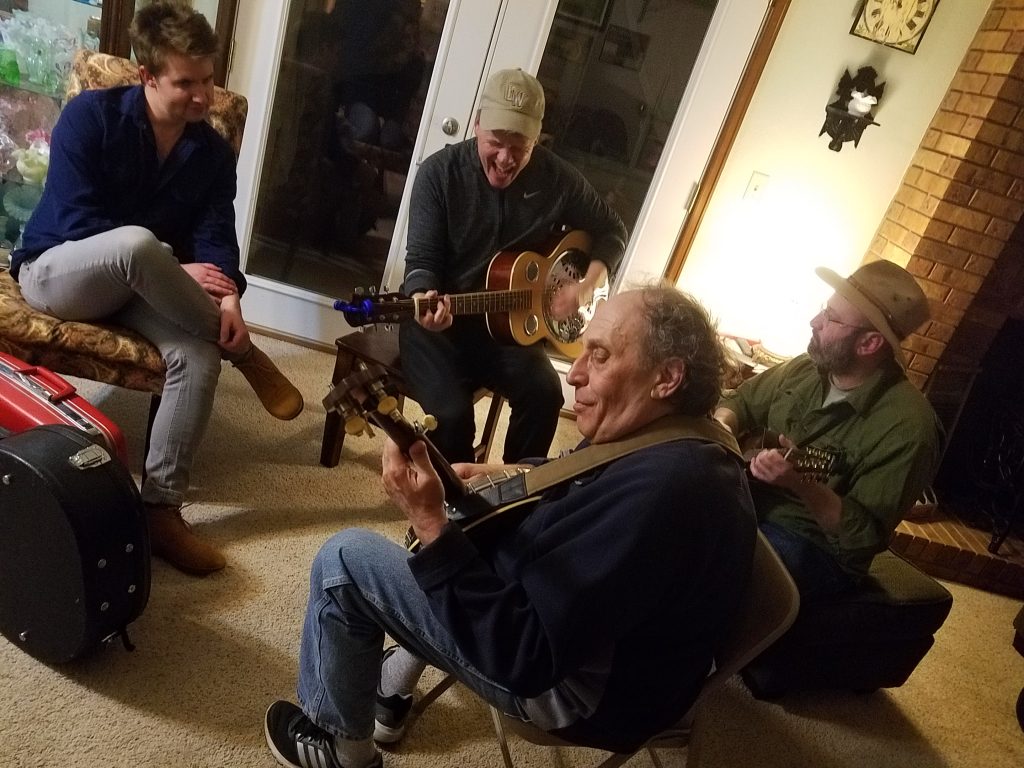 Ready for something new? Something old, too? Well, here ya go!

We're firing up a once-a-month Wednesday night acoustic house concert series at Shelley's – with a concentration on local acts.

Local meaning Longmont, the Front Range, and Colorado. We will take on out of state acts when it seems right, but supporting local artists is big for us.

Act meaning more than one musician. We encourage those usually solo to whip-up a duo or a band and to collaborate to do something unique in front of our listening crowd. As Wednesdays are a school/work-night for most folks, we're going to stick to one act for this series (at least to start) though we'll always welcome our friend Kevin Dooley to "sing us out of supper" and aim us towards the nights' music.
Want to perform?
Reqs:
At least two musicians, 3 or 4 is ideal.
You are playing for the tip jar; to be divided amongst the players.
You can easily fill an hour and 15
Join the meetup and message Paul (the "organizer") from meetup.
Briefly describe your act, link to your music, & leave email + phone.
Third Wednesday's Supper Songs at Shelley's!
7pm Potluck-n-Pick (bring yer axe!)
Bring enough beverages for your crew & maybe some to share
If no time to cook, skip the chips and bring some drinks to set out for share.
8-9:15 music, pick a bit after..
Tip-Jar for musicians (cash only)
RSVP here on: meetup
+
Sponsors wanted! (2 per show)
Highlight your local business for a donation
(100% goes directly to the Supper Songs band.
talk to Paul)

..and don't forget…

Second Sunday Wake-n-Bake at the Rail 11am till 2 or 3p.
November 10, December 8…
Breakfast on-the-house.
An 'optional' potluck – bring your own beverages maybe some to share.
Free-form jam / song circle for EVERYONE.
No donations requested
Join us!
We use meetup to keep you up to date and to help us know how many are coming. Please help us plan by rsvp-ing there. 🙂

Join Longmont Musical Potlucks on meetup here to see our upcoming events and to save your seat!
Be kind ~ Be cool!
We reserve the right to ask anyone to leave.