Second Sunday Jams and House Concerts at The Rail.
(For directions to Shelley's/Super Songs please see the meetup you are attending.)
How to Park at the Rail – Some of this has changed and It IS IMPORTANT!
Longmont Musical Supper Club is a real, in-person community. As such, we need to be aware of others and their families and community. So, we ask you to walk a little bit 🙂
Feel free to block OUR driveway to quickly drop your people, your music, food, etc – quickly run in your stuff or send it in with your riders, then go park a few blocks away, please.
Please do NOT park on 24th except the little stretch from Stuart to Frontier on the South Side in green on the map.
Other green sections are suggested areas where there is usually room.
Please don't take the last spot in front of someone's house.
Park at least 5 feet from driveways, 15 feet from fire hydrants.
Be super cool in our neighborhood. Super nice. Stealthy!
If a neighbor asks you not to park somewhere – LISTEN, BE SUPER NICE, AND MOVE even if it's a legal street spot. EVEN IF you think the neighbor is nuts or whatever. Be super nice and compliant ANYWAY. It is SO IMPORTANT to keep it cool in the hood. Thanks for being super considerate!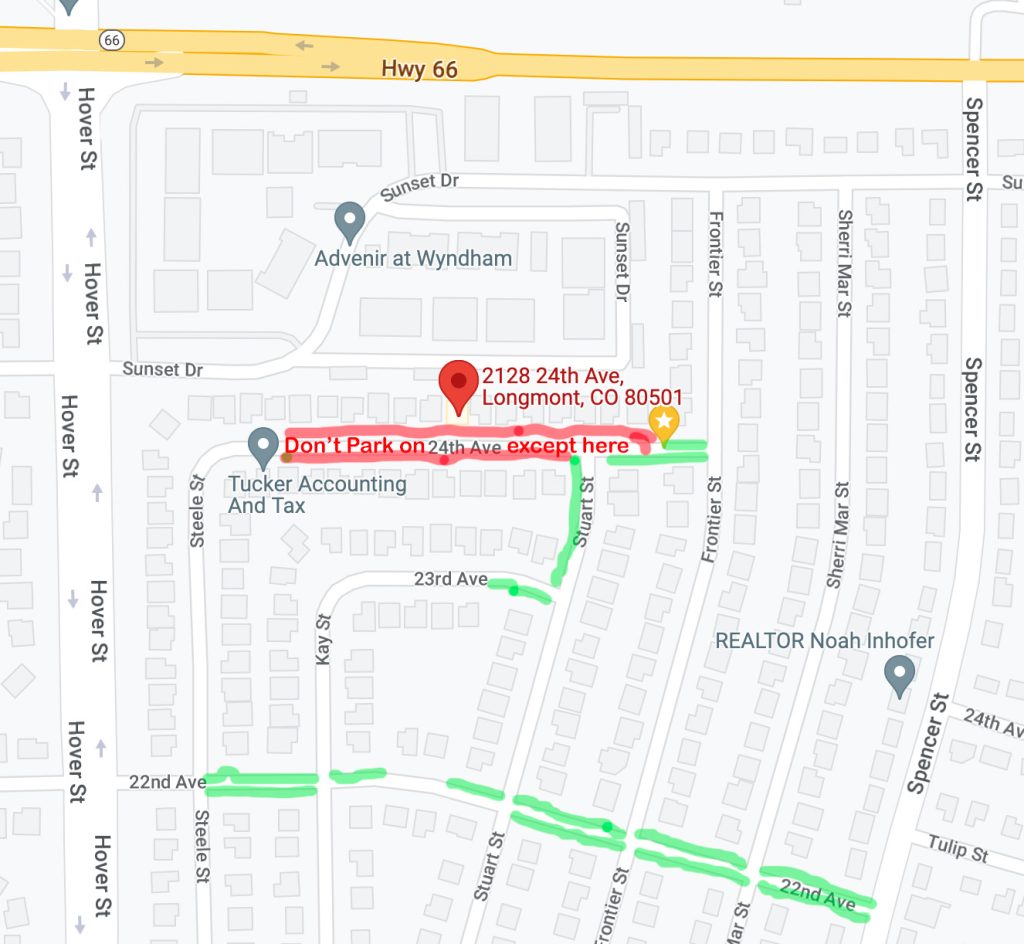 The Rail
Stuff you should know:
These are NOT public events – if you join our meetup group, we'll invite you!
You must have RSVPd to attend. For house concerts – we have a list, wristbands, and check folks in at the door.

Parking is VERY TIGHT on 24th
Neighbors are protective of the one spot in front of their house: park on a long stretch not taking the last spot in front of anyone's house on Stuart or on Frontier. 22nd Avenue is your friend! If you park on 24th, expect that we will ask you to move. + if someone complains, even if you parked politely, just park somewhere else – it's about keeping the peace, not being "right."
Use a designated driver if you embibe! We're all about the music.
Lots of folks attend that don't drink or smoke and others do.

Be chill and respectful of everyone.
You do you.

Potluck – We always have an amazing spread!

We appreciate it when you bring something special to share.
A dish, snacks, goodies, appetizers..
nobody will say anything or think less of you if you don't bring a dish.
if it's your first time – just come and don't worry!


Bring enough beverages for you and your crew. (even if it's your first time)
The house does not supply beverages.
please respect other people's beverages in the cooler.
It's great if you can bring some extra drinks to share!
Please carpool if you can.
Please don't hang out in the front yard / driveway. Use the back deck to get some air or to grab a smoke.

Leave your dog and all other animals at home. It's nothing personal.
Our dog Sadie's friend Rowdy the chihuahua is the only exception.
Bring your stringed instrument!
questions? Hit up railevents at coloradograss org
Directions:
2128 24th Ave Longmont 80501 24th ave ( map here )
Simple "back of a napkin" directions:
Hover > east on 22nd > 1st L on Steele > Steele makes you turn right and becomes 24th.
We are on the left a block or so down. Yellow house. White "hoop" gardens in front.
If it's nice and warm, enter through the gate on the left.
If it's still chilly, the front door.