Follow us on Twitter! @railcritters
friends: @prennix @BonnieHerClydes @dancinsheep  
Join the facebook group here: facebook.com/groups/longmontmusic!
(RSVP to get on the invite list. Even rsvp-ing no works.)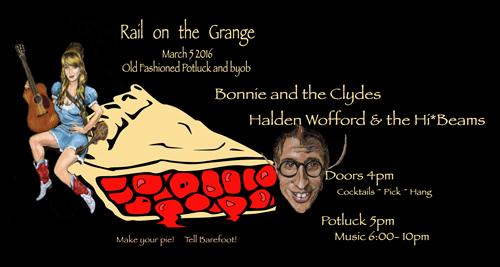 Spring is almost here and it's time for a barn burner!!!
Sign Up/RSVP here make sure you put in your details/email so you get invited to all events!
Not sure which band will be starting so be sure to get there on time!
$20 per person – please bring CASH
Doors / Cocktails 4pm
Potluck 5pm (potluck held upstairs in rear of performance area)
Music 6-10pm
Cleanup Party 10-10:30/11 – we so appreciate your help!
volunteers:
JJ Breazeale
Directions and Details for the Altona Grange are here
Pick!
Bring your stringed instruments for a pick! Pickers make the pick happen or not!
Food and Drink! POTLUCK! – please bring fork/knife/spoon/plate for yourself
We will be potlucking and byob-ing as usual. Help us make the potluck special by bringing something homemade and great! The house will be providing some roast/smoked beast and a big salad.
BRING enough beverages for you and your crew!
…and maybe some to share 🙂
No under 21 drinking is allowed. You must have ID.
Parking: Please park and hang on the south side of the grange (facing Nelson). Even the grange has sensitive neighbors and they are on the north.
DON'T DRINK AND DRIVE. PLAN your escape.. Pick a DD, have Uber installed on your phone with a payment method. You don't want a DUI in Boulder County!
DON'T smoke weed in your car – ANYWHERE in Colorado – always be outside instead! You will get hauled in for a blood test when they smell it in your vehicle and the DUI is just as bad! There is NO smoking of anything inside the grange.
HELP MAKE IT AWESOME!
If everyone pitches in some awesomeness, we end up with a huge pile of awesome. Bring goodies, help out along the way, be kind and have a blast! More info will be posted at coloradograss.org within a couple days of NYE. PLEASE RSVP. It really helps to know how much to prepare 🙂
This is a traditional, private event. If you accidentally found this page and aren't sure if you should come, email prennix at gmail dot com. If someone invited you, the you belong!