You *must* sign-up/rsvp to attend. This *will* fill up. 🙂
Crick Wooder!
Sat 4.27 –
7pm doors/potluck
7:30 Dooley-n-Friends
8ish Crick Wooder Set 1….
break
Crick Wooder Set 2
Jam-n-hang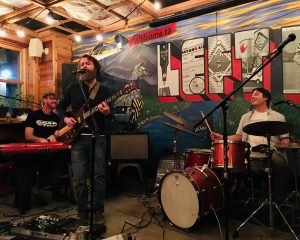 With musical roots stretching back to the 90's in Philadelphia and a formal education in jazz, soul, and rock & roll, Crick Wooder is one of the most slick and engaging acts to honor the Grateful Dead songbook and beyond.
Beautifully sung and played with obvious intention, Crick Wooder is led by Shawn Cunnane on lead guitar and vocals. Rounding this group out is Shawn's longtime collaborator and intuitive powerhouse Kevin Conrad on drums. They're joined by the melodic, creative bass playing of Joe Racheli and the talented, in demand Zachary Nover on keyboards and B3 organ. Together their improvisational artistry creates a unique sound that's sure to take you on a ride. In no time at all they have amassed a loyal and
ever growing fan base of 'Crick Rats' – This band is not to be missed!
Sign up to come!
We manage events on meetup.
rsvp here: meetup.com/Longmont-Musical-Supper-Club/events/259494747
Longmont Musical Supper Club Facebook group
https://www.facebook.com/groups/longmontmusic/